Journey, one of the iconic rock bands of all time, has just announced their highly anticipated tour dates for 2024. This is exciting news for fans around the world, as they will have the opportunity to experience the band's electrifying performances live on stage once again. The tour, which will also feature the legendary band Toto as special guests, promises to be an unforgettable musical journey through the decades. So mark your calendars and get ready to rock out with Journey and Toto!
Tour 2024 Will Kick Off On February 9 In Biloxi, Mississippi, Making Stops In Raleigh, Louisville, Omaha, Las Vegas And More, Before Wrapping On April 29 In Bridgeport, Connecticut.
Get ready for an epic musical journey in 2024! Journey, along with Toto, is set to kick off their highly anticipated tour on February 9th in Biloxi, Mississippi. The tour will make stops in exciting cities like Raleigh, Louisville, Omaha, Las Vegas, and more, before wrapping up on April 29th in Bridgeport, Connecticut. Don't miss out on this incredible live experience filled with hit songs and unforgettable performances. Secure your tickets now and embark on a musical adventure like no other!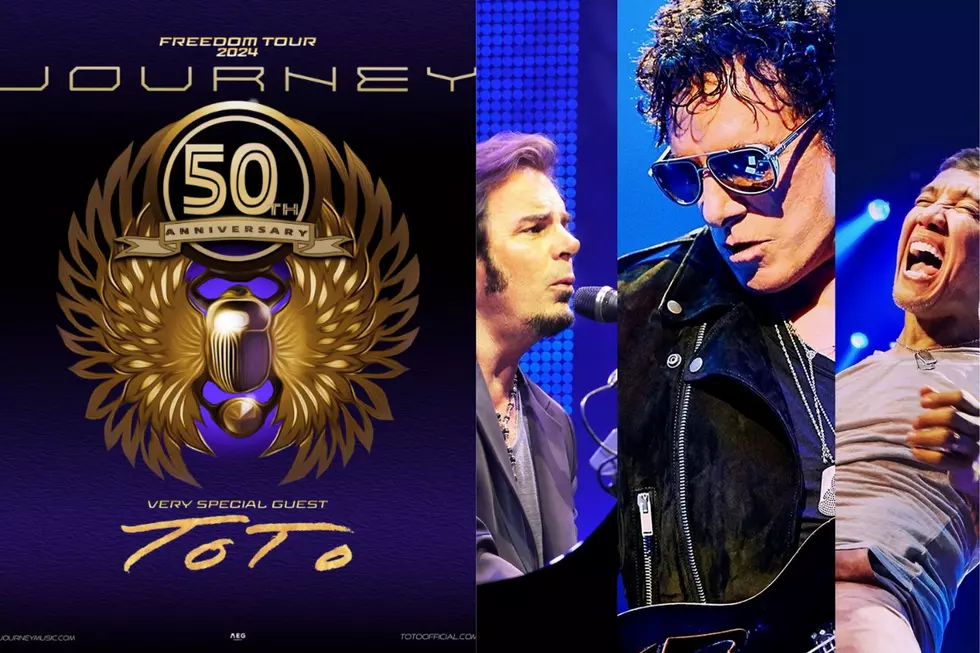 Stops in Raleigh, Louisville, Omaha, Las Vegas, and More
Following the kickoff in Biloxi, the tour will make stops in various cities across the United States, giving fans from coast to coast the opportunity to witness the magic of Journey and Toto live. From Raleigh to Louisville, Omaha to Las Vegas, and many more cities in between, the tour will bring the power of rock and roll to audiences nationwide. Each concert promises to be a unique experience, as Journey and Toto deliver their greatest hits and showcase their musical prowess.
The Encore: Journey Wraps Up in Bridgeport, Connecticut
After months of excitement and anticipation, the Journey tour will reach its grand finale on April 29 in Bridgeport, Connecticut. This last stop promises to be a fitting end to an incredible journey, as the band delivers a show that will leave the audience wanting more. Bridgeport, a city known for its passion for music, will be in for a treat as Journey and Toto conclude their tour with a bang. It will be a night to remember, filled with electrifying performances, unforgettable memories, and the thrill of live music.
The Magic of Journey and Toto in One Unforgettable Tour
When two legendary bands like Journey and Toto come together for a tour, music lovers know they are in for something extraordinary. Both bands have created a legacy of timeless hits and have amassed a dedicated fan base that spans generations. The combination of Journey's anthemic rock sound and Toto's smooth melodies will undoubtedly create a magical atmosphere at each concert. From belting out hits like "Don't Stop Believin'" and "Africa" to experiencing the passion and energy of the live performances, fans will have the opportunity to be a part of something truly special.
Tips for the Ultimate Journey and Toto Concert Experience
If you're one of the lucky fans who will be attending the Journey and Toto tour in 2024, here are a few tips to make the most out of your concert experience:
Arrive early to secure the best seats or spots on the floor.
Get familiar with the discography of both bands to sing along to every song.
Be prepared for a night of non-stop energy and excitement.
Join the crowd and let loose, dancing and singing along with fellow fans.
Capture the memories by taking photos or videos to relive the experience later.
Planning Your Journey: Tickets and More
If you're eager to secure your tickets for the Journey and Toto tour, make sure to visit the official websites and authorized ticket vendors. Keep an eye on the tour dates and ticket sale announcements to avoid missing out on this incredible opportunity. Additionally, consider booking your accommodations and planning your trip in advance, as popular concert destinations may experience high demand during the tour. With a little preparation, you can ensure that your journey to witness the dynamic performances of Journey and Toto will be one for the books.
Reliving the Journey: Memories That Last a Lifetime
Attending a concert is about more than just watching your favorite artists perform live; it's about creating memories that last a lifetime. The Journey and Toto tour of 2024 offers fans the opportunity to relive the magic of their favorite songs, immerse themselves in the energy of a live performance, and connect with fellow music lovers who share the same passion. So grab your tickets, get ready to rock out, and prepare yourself for a journey like no other.
Key Takeaways
Journey has announced their 2024 tour dates with Toto.
The tour will kick off on February 9 in Biloxi, Mississippi.
It will make stops in Raleigh, Louisville, Omaha, Las Vegas, and more.
The tour will wrap up on April 29 in Bridgeport, Connecticut.
Fans can expect an exciting concert experience filled with classic hits and memorable performances.
JOURNEY 50th-anniversary "Freedom" 2024 tour dates:
Feb. 09 – Biloxi, MS @ Mississippi Coast Coliseum
Feb. 12 – Sunrise, FL @ Amerant Bank Arena
Feb. 14 – Greenville, SC @ Bon Secours Wellness Arena
Feb. 15 – Birmingham, AL @ Legacy Arena at the BJCC
Feb. 17 – Raleigh, NC @ PNC Arena
Feb. 18 – Baltimore, MD @ CFG Bank Arena
Feb. 21 – Providence, RI @ Amica Mutual Pavilion
Feb. 22 – Rochester, NY @ Blue Cross Arena
Feb. 24 – Louisville, KY @ KFC Yum! Center
Feb. 26 – Madison, WI @ Kohl Center
Feb. 28 – Sioux City, IA @ Tyson Events Center
Feb. 29 – Rapid City, SD @ The Monument
Mar. 02 – Grand Forks, ND @ Alerus Center
Mar. 04 – Winnipeg, MB @ Canada Life Centre
Mar. 07 – Calgary, AB @ Scotiabank Saddledome
Mar. 09 – Edmonton, AB @ Rogers Place
Mar. 10 – Saskatoon, SK @ SaskTel Centre
Mar. 13 – Billings, MT @ First Interstate Arena at MetraPark
Mar. 15 – West Valley City, UT @ Maverik Center
Mar. 16 – Las Vegas, NV @ Michelob ULTRA Arena
Mar. 21 – Las Cruces, NM @ Pan American Center
Mar. 22 – Lubbock, TX @ United Supermarkets Arena
Apr. 15 – Omaha, NE @ CHI Health Center
Apr. 16 – Peoria, IL @ Peoria Civic Center Arena
Apr. 19 – Fort Wayne, IN @ Memorial Coliseum
Apr. 20 – Charleston, WV @ Charleston Coliseum
Apr. 23 – North Charleston, SC @ North Charleston Coliseum
Apr. 26 – Norfolk, VA @ Scope Arena
Apr. 27 – Wilkes Barre, PA @ Mohegan Sun Arena at Casey Plaza
Apr. 29 – Bridgeport, CT @ Total Mortgage Arena
Frequently Asked Questions
Welcome to our frequently asked questions section about Journey's 2024 tour dates with Toto! Below, you'll find answers to some common queries to help you learn more about this exciting event.
1. When does the Journey 2024 tour with Toto begin and end?
The Journey 2024 tour with Toto will kick off on February 9 in Biloxi, Mississippi, and will wrap up on April 29 in Bridgeport, Connecticut. This means you'll have three months to catch these legendary bands live!
This tour covers a wide range of cities, including Raleigh, Louisville, Omaha, Las Vegas, and more. It's a chance for fans across the country to experience the magic of these iconic rock bands.
2. How can I get tickets for Journey's 2024 tour with Toto?
Getting tickets for Journey's 2024 tour with Toto is easy! You can visit the official website of the bands or check out reputable ticketing platforms. Keep an eye out for the tour's official ticket release announcements, as they will provide information on where and when you can purchase tickets.
Due to the popularity of these bands, tickets are likely to sell out quickly. It's best to be prepared and ready to purchase as soon as they go on sale. Set a reminder for the ticket release date and be sure to have your payment details ready for a smooth transaction.
3. Will there be VIP packages available for the Journey 2024 tour with Toto?
Yes, there are usually VIP packages available for the Journey 2024 tour with Toto. These packages offer fans a unique and unforgettable concert experience. They often include perks like meet and greets with the band members, exclusive merchandise, and premium seating.
If you're interested in the VIP experience, be sure to keep an eye out for any announcements or updates on the official tour websites. VIP packages tend to be in high demand, so it's advisable to act fast when they become available.
4. Are there any special guests joining Journey and Toto on the 2024 tour?
While the official line-up for the special guests on the Journey 2024 tour with Toto has not been announced yet, there is always a possibility of surprise appearances from other talented artists. It's not uncommon for bands to bring on special guests during their tours to add excitement and variety to the shows.
Keep an eye on the official tour announcements and follow the bands on social media for updates. You never know who might join Journey and Toto on stage for an unforgettable performance!
5. Can I expect to hear all of Journey and Toto's greatest hits on the 2024 tour?
Absolutely! Journey and Toto are known for their incredible discographies filled with timeless hits. On the 2024 tour, you can expect to hear fan favorites like "Don't Stop Believin' " by Journey and "Africa" by Toto, among many others.
Both bands have a knack for putting on energetic and captivating live performances, and they understand the importance of delivering the songs that fans love. So get ready to sing along to all the classics during this unforgettable tour!
Summary
Journey has exciting news for their fans—the band will be going on tour in 2024! They will be joined by Toto, another great band. The tour will start on February 9 in Biloxi, Mississippi, and will travel to cities like Raleigh, Omaha, and Las Vegas. It will end on April 29 in Bridgeport, Connecticut. Get ready for a fantastic musical journey with two awesome bands!
Read More: Journey Tour 2024 : Where To Get Tickets, Setlist, Price